Message Booth
An innovative way to tell your unique story. Our Message Booth gives you the opportunity to express yourself freely. Write a note, sketch out your thoughts or doodle with wild abandon to produce valuable, personalised content.

We developed the Message Booth technology over 6 years ago, bringing together our in depth knowledge of the humble photo booth and our ambition to create a unique content experience that was immersive for guests, building connection and inspiring them to be creative. The Message Booth can be customised and installed anywhere in the world, with endless creative possibilities.t's easy.
TikTok
For TikTok's End of Year Party at the Windmill in Soho, London, we installed our custom Message Booth to capture the energy of the night and the creativity of the guests. TikTokers could either answer one of the prompts available or they could draw, doodle and write freely.
Our Message Booth encourages self-expression and creativity in it's many forms; a wonderful way to wrap-up 2021.
​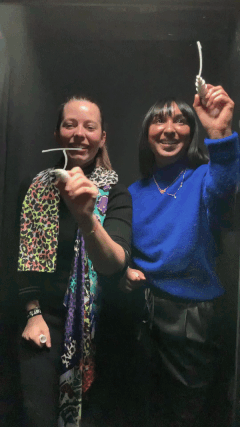 As part of their #NeverFall campaign, Kérastase asked us to design a unique video experience that would engage guests with their new Genesis range. Using our Message Booth technology, we asked guests "What would you do if you were not afraid of falling?", with the content produced being instantly available to share on Instagram stories during the event. The content incorporated both the Kérastase logo and campaign tagline in the design.
​
The Kérastase message booth gave the guests a 20 second window to write their responses onto the glass with a white chalk pen. The question led to meaningful messages being shared as bold video content online, encouraging guests to embrace their vulnerability and look within themselves; a powerful brand experience that built a deeper, more memorable connection between guests and the brand, as well as themselves.
D&AD
"Your doodle is more than just an unproductive drawing"
​
As part of their Creative Festival 2019 in association with Adobe, we partnered with D&AD to create our award winning Doodle Booth experience. Combining cutting edge technology, creativity and psychology, we developed an experience that aligned with the Festival theme "Shaping the Future", encouraging guests to explore their own freedom of expression.
​
During the festival over 550 people engaged with the Doodle Booth. Over 150 doodle's were shared on Instagram making it one of the most popular stands at the festival, with a reach of over 200k. The project went on to win awards for its digital and social innovation.
Message to My Future Self
New Balance
For New Balance's 'My Future Self' campaign, our Message Booth videos were designed to capture the motivation and excitement of the London Marathon runners ahead of the big race.
We invited runners and supporters to write a message to their future selves. Their personalised video was then emailed to them instantly and again on the morning of the marathon, to inspire and remind them of why they were running.
With its personal, inspirational and fun approach, the booth created a safe and private environment for people to share their stories and take a meaningful moment away from the noise, to reflect.